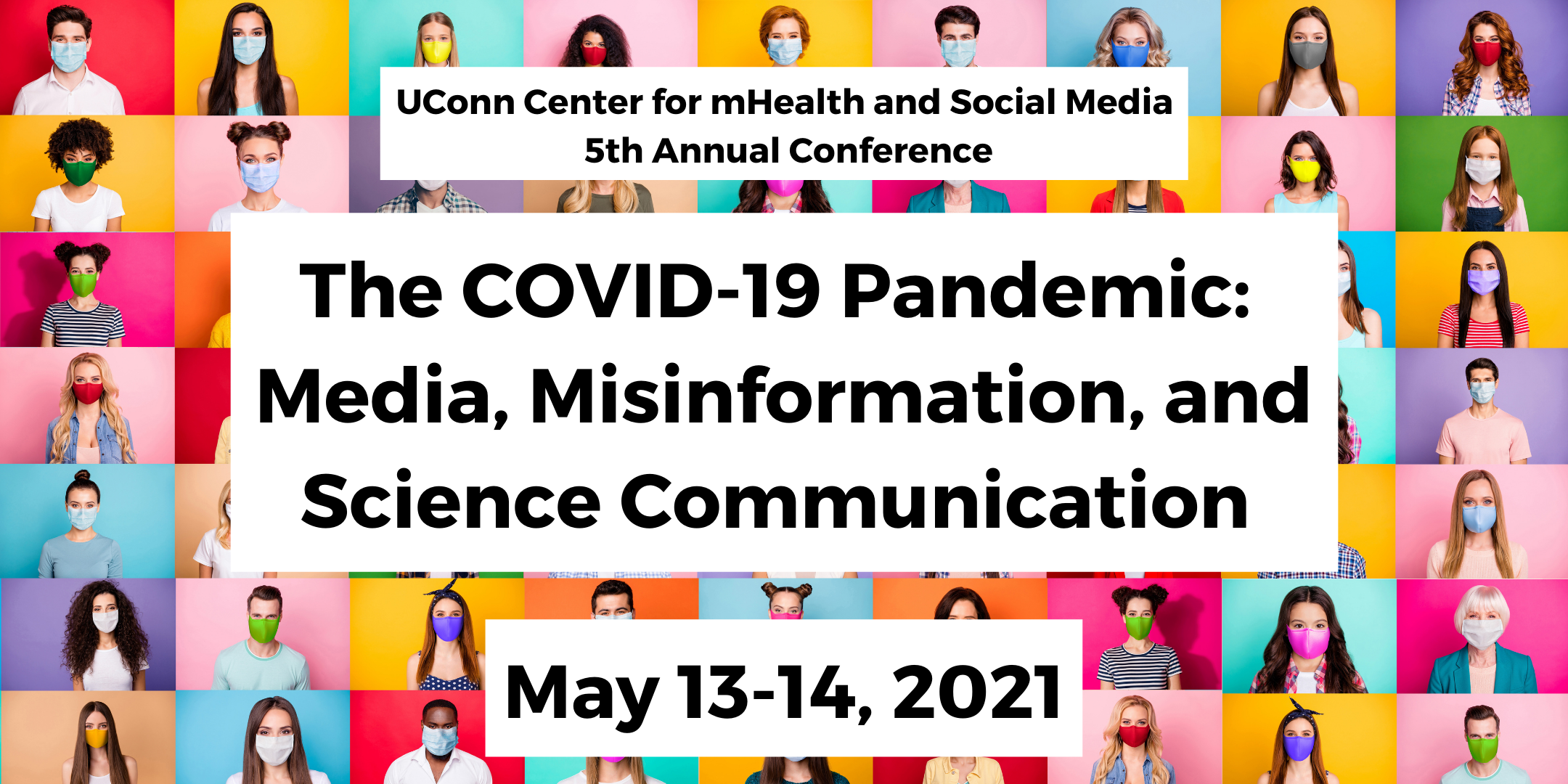 Day 1, Thursday, May 13, 2021, 12:00- 3:30 PM Eastern Time
12:00- 12:10 PM Welcome and Introduction
Sherry Pagoto, PhD, Director, UConn Center for mHealth and Social Media, Professor, Department of Allied Health Sciences, Institute of Collaborations in Health, Interventions, and Policy, University of Connecticut
12:10-12:45 PM Opening Keynote
Dear Pandemic: Nerdy Girls Navigating the COVID-19 Overwhelm
Alison Buttenheim, PhD, University of Pennsylvania
Dr. Alison Buttenheim is co-founder of Dear Pandemic, a COVID-19 information campaign led by an interdisciplinary all-women team of researchers and clinicians whose mission is "to educate and empower individuals to successfully navigate the COVID-19 overwhelm." With over 120,000 followers across seven social media platforms, Dear Pandemic answers pressing questions from the community and translates complex and dynamic scientific news into real-world guidance for the general public. Dr. Buttenheim will speak about Dear Pandemic's mission, strategy, and impact; and about gender and scientific expertise during COVID-19. Dr. Buttenheim is the Patricia Bleznak Silverstein and Howard A. Silverstein Term Endowed Professor in Global Women's Health; Associate Professor of Nursing and Health Policy, Penn Nursing; and Scientific Director, Penn Center for Health Incentives and Behavioral Economics.
Collaborating With Patient Advocacy Groups on Social Media to Research The Long-term Health Impacts of COVID-19
Natalie Lambert, PhD, Associate Research Professor of Medicine; Director, COVID-19 Health Lab, Indiana University
Dr. Lambert's COVID-19 Health Lab works to understand the multitude of ways in which COVID-19 impacts patients' health. The major focus of her lab is to 1) understand how underlying health factors affect COVID-19 health outcomes and 2) identify barriers patients experience when seeking out care for long-term or novel COVID-19 symptoms. Dr. Lambert utilizes large-scale natural language processing of data collected from online communities as well as surveys, interactive mapping, and innovative health informatics techniques.
1:20 – 2:10 PM Paper Session
Why We Share Fake News, Michael P Lynch, PhD, Board of Trustees Distinguished Professor of Philosophy; Director, Humanities Institute, University of Connecticut
Factors associated with intentions to engage in COVID-19 preventive behaviors: attitudes, prior behavior, and use of narratives, Yuki Lama, PhD, MPH, Fellow, Health Communication and Informatics Research Branch, National Cancer Institute
Characterizing Twitter Reaction to Pfizer Vaccine Announcement and Identifying Influential Users, Michael Haupt, MS, PhD Student, University of California San Diego
2:10- 2:50 PM Panel Discussion
Leading the Narrative in The Time of COVID19
Panelists will discuss how they have approached science communication during the COVID19 pandemic, the role that social media has played in science communication about COVID19, their biggest concerns when it comes to the infodemic, and the roles and responsibilities of scientists and practitioners when it comes to engaging with media and social media during a public health crisis.
Monica Wang, PhD. Associate Director of Narrative at the BU Center for Antiracist Research, an Associate Professor of Community Health Sciences at the Boston University School of Public Health, and an Adjunct Associate Professor of Health Policy and Management at the Harvard T.H. Chan School of Public Health
Jessica ("Jessi") Gold, MD, MS, is an Assistant Professor in the Department of Psychiatry at Washington University in St Louis School of Medicine, specializing in college mental health, medical education, and physician wellness. She writes regularly for the popular press about mental health, stigma, and medical training.
Eleanor Murray, ScD is British-Canadian epidemiologist, science communicator, an assistant professor of epidemiology at Boston University School of Public Health, and co-director of the Boston University Epidemiology COVID-19 Response Corps.. Her research is on causal inference methodology for improving evidence-based decision-making by patients, clinicians, and policy makers. She applies these methods to a variety of medical conditions including HIV progression, cancer, psychiatric conditions, and cardiovascular disease. Throughout the COVID-19 pandemic, Murray created a series of multi-lingual, accessible infographics to communicate information about coronavirus disease. She has been a leading science voice throughout the pandemic and beyond with over 68K followers on Twitter.
2:50- 3:00 PM Introduction to Video Poster Session
3:00- 3:30 PM Video Poster Session
Day 2, Friday, May 14, 2021, 12:00- 3:30 PM Eastern Time
12:00- 12:10 PM Introduction
12:10- 12:45 PM Opening Keynote
Speak to the Wounds: (Re)coding Behavioral Health Equity & Advancing Radical Healing among Black Males
Wizdom Powell, PhD, Director, Health Disparities Institute; Associate Professor of Psychiatry, UConn Health.
Dr. Powell's community-based research focuses on of the role of modern racism and gender norms on African American male health outcomes and healthcare inequities. She serves as the President of the American Psychological Association, Division 51 Men and Masculinities, and is an honorary professor at the University of KwaZulu-Natal in Durban, South Africa. In 2011-2012, she was appointed by President Obama to serve as a White House Fellow to Secretary of Defense Leon Panetta. In this role she provided subject matter expertise on Military Mental Health (e.g., PTSD, Suicide, and Military Sexual Trauma). She has published numerous peer-reviewed articles and book chapters including ones in the American Journal of Public Health, Journal of General Internal Medicine, Behavioral Medicine, and Child Development.
COVID Mis/disinformation and Communication: overcoming hurdles on the uphill climb to herd immunity
Scott Ratzan, MD, MPA, MA, Distinguished Lecturer, CUNY Public Health
Dr. Ratzan brings three decades of pioneering accomplishments domestically and globally in health communication, health literacy and strategic diplomacy. He is the founding Editor-in-Chief of the Journal of Health Communication: International Perspectives, established in 1995. He recently was Senior Fellow at the Mossavar-Rahmani Center for Business and Government at Harvard Kennedy School where he published "Guiding Principles for Multisector Engagement for Sustainable Health (MESH) and a series of published articles related to vaccine communication in the Washington Post, Financial Tines, JAMA and Lancet Infectious Disease. He currently serves on the National Academy of Sciences, Engineering and Medicine Board on Global Health, the RAND Health Advisory Board, and Vice Chair of World Information Transfer, a UN accredited NGO.
1:20– 2:10 PM Paper Session
Experiences when Responding to COVID-19 Misinformation in a Social Media Feed, David Buller, PhD, Director of Research, Klein Buendel
Assessing user engagement with COVID-19 vaccine trial-related outreach events on Facebook, Alec Calac, Pauma Band of Luiseño Indians, MD/PhD Student, University of California San Diego
Development and Implementation of IMPACT (Illinois Medical Professionals Action Collaborative Team) to Amplify Medical Voices Using Social Media During the COVID-19 Pandemic, Alexandra Kenefake, MBS, MD Student, University of Illinois at Chicago
2:10- 2:50 PM Panel Discussion
Misinformation, Trust, and the COVID19 Vaccine
Vaccine acceptance has been increasing in recent months, but it is unclear how long this trend will continue or how parents of children under age 16 will react when a vaccine is approved for their children. Panelists will discuss the unique challenges associated with COVID19 vaccine acceptance, what we can learn from vaccine acceptance research pertaining to other vaccines, examples of successful approaches to increasing COVID19 vaccine acceptance, and looking ahead at how we can tackle COVID19 vaccine acceptance among parents of children.
Eugenia South, MD, MSHP is Assistant Professor of Emergency Medicine at Penn's Perelman School of Medicine, as well as the Faculty Director for the Penn Urban Health Lab. As a physician-scientist, her broad vision is to improve health and quality of life for residents in low-resource and Black communities through both research and clinical work. Dr. South's research agenda is focused on developing and testing individual and neighborhood level interventions to better understand the ways in which the physical and social attributes of where people live, work, and play influence physical and mental health, and community safety. Her work on vacant lot greening has been published in JAMA Network Open, PNAS, and AJPH, and has appeared in national and international media outlets such as the Washington Post, NPR, and Time Magazine.
Natalie Shook, PhD is an Associate Professor of Nursing in the University of Connecticut School of Nursing. Her work focuses on cognitive and affective processes underlying attitude formation and change, as well as how attitudes guide behavior. Recently, she has examined the disease-avoidance function of disgust and the role of disgust in shaping attitudes about the COVID19 vaccine and other protective behaviors.
Jasmin Tiro, PhD is an Associate Professor in the Division of Behavioral and Communication Sciences, Department of Population and Data Sciences in a joint position at the University of Texas Southwestern Medical Center and the University of Texas-School of Public Health for the Dallas Regional Campus. Her program focuses on multi-level intervention research directed at cancer prevention and early detection behaviors specifically among underserved populations seen by urban safety-net healthcare systems. She uses health behavior theories and health services conceptual models to identify novel patient-, provider-, and system-level intervention targets. Dr. Tiro's work leverages quantitative and qualitative (mixed) research methods to design and evaluate behavioral interventions. She is committed toward disseminating behavioral interventions aimed at ending cancer disparities.
2:50- 3:20 PM Video Poster Session
3:20- 3:30 PM Best Paper and Video Poster Awards Ceremony