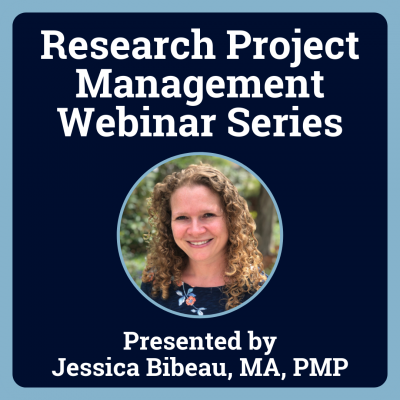 Research Project Management Webinar Series, Part 2: Developing a plan to guide and manage your projects
Presenters: Jessica Bibeau, MA, PMP
When: Monday, June 15, 12-1PM
Details: How do you keep your projects organized and on task? How do you keep on top of accountability requirements? Welcome to part 2 of the project management webinar series where you will learn about developing a management plan for your projects to create a smooth flow through each project phase, from initiation through closing. Reduce the risk of your project going outside of budget, timeline, and quality expectations. Using guidelines from the Project Management Institute, you will learn how to break down the project scope into smaller pieces and develop a plan for managing each piece. Understanding these formal strategies will help align the research environment to project management standards. The first part "Using project management tools to initiate and plan your projects" is not necessary to view first, but you can check it out here.
Registration: Click here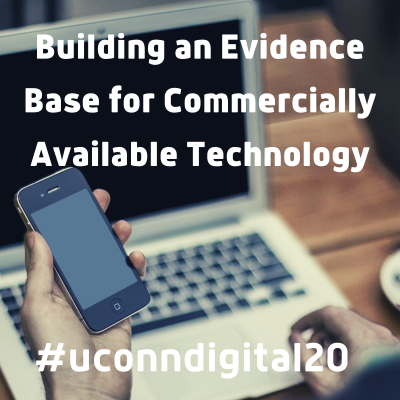 2020 Virtual Conference: Building an Evidence Base for Commercially Available Technology
Speakers: Brie Turner-McGrievy, PhD,University of South Carolina; Yelena Wu, PhD, University of Utah; Heather Patrick, PhD, Private Sector; David Conroy, PhD, Pennsylvania State University; Aaron Coleman, CEO of Fitabase; Jennifer Huberty, PhD, Arizona State University
When: May 14-15, 2020
Description: The UConn Center for mHealth and Social Media (CHASM) 2020 Annual Conference was 100% virtual. The theme of the 2020 annual CHASM conference is "Building an Evidence Base for Commercially Available Technology," and focused on research that evaluates the reliability, accuracy, efficacy, or real world effectiveness of commercially available technology including mobile apps, sensors, devices, or social media platforms. Digital health is a $200 billion industry with countless apps, devices, platforms and sensors available in the marketplace and in the hands of millions of users. This marketplace offers myriad opportunities for research aiming to improve health outcomes. Evidence is direly needed for commercially available technologies to guide healthcare professionals on which products to "prescribe" to their patients, and to guide consumers on which products are worth their time and money.
We designed the program to catalyze research on commercial health technologies and to lay out a roadmap for best practices, including how to navigate the myriad methodological, logistical, and ethical challenges of research using commercial health technologies. We featured nationally renowned keynote speakers from academia and industry who have expertise in using commercially available health technologies in research. Attendees had the opportunity to participate in virtual breakout sessions to give them closer access to speakers for advice on anything from developing relationships with industry to innovative research designs. Attendees were also strongly encouraged to come ready to develop a research question during the conference and submit seed grant proposals to two funding opportunities that opened shortly after the conference. Three workshops were held on Friday, May 15: Research Designs for Testing Commercially Available Technology, How To Write an Effective Seed Grant, and Introduction to Social Network Analysis.
Video Poster Abstracts: In lieu of a traditional poster session, we hosted a video poster session. Instead of a traditional poster, presenters produced a 1 minute video summarizing their research in any way they saw fit. Awards were given to the video with the most views and to those selected by our judges for Best Video Poster by a Student and Best Video Poster Overall. You can enjoy video posters on our YouTube playlist.
Seed Grants for Conference Attendees: Two funding opportunities are available exclusively to registered conference attendees. One opportunity is open to all attendees and one is reserved for PIs from UConn. The company Calm is kindly sponsoring one funding opportunity for any attendees interested in using Calm in their research. CHASM and UConn's InCHIP are co-sponsoring the seed grant opportunity reserved for UConn investigators. See more information and submission details here.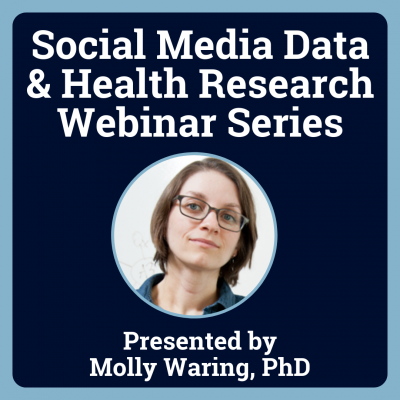 Webinar: Large national datasets assessing health-related use of the internet, technology, and social media
Presenters: Molly Waring, PhD
When: Monday, April 6
About: This webinar provided an overview of large, nationally-representative, population-based health datasets that provide information on the use of the internet, technology, and/or social media in the US population. The discussion included how to access the data, an assessment of their strengths and limitations, ethical considerations, methodological considerations including complex sampling and weighted statistical analyses, and interpretation of results.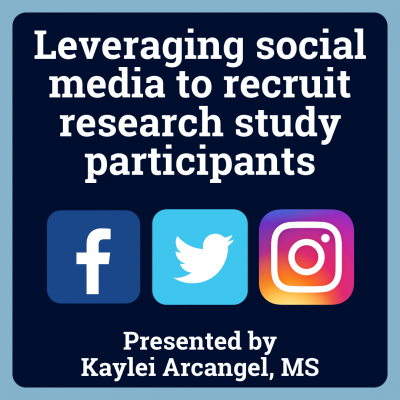 Webinar: Leveraging social media to recruit research study participants
Presenters: Kaylei Arcangel, MS
When: Monday, February 10, 12-1PM
About: This webinar presents strategies for successful recruitment of study participants using social media, including how to optimize your efforts on different platforms and how to identify and manage fraudulent research participants. Kaylei Arcangel is a Research Coordinator in the Center for mHealth and Social Media and has successfully used social media platforms to recruit hundreds of research participants nationwide.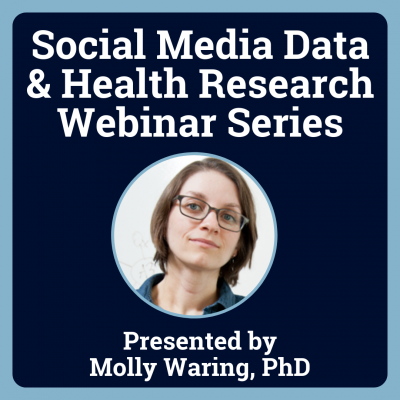 Webinar: An overview of methods for capturing and examining social media data for health research
Presenter: Molly Waring, PhD
When: Monday, December 9, 12-1PM
Details: Interested in capturing and examining social media data for health research? This webinar will provide an overview of methods for data collection and analysis, including considerations related to study design, research topic, social media platform, ethics, and composition of the research team. Several free/inexpensive tools for capturing data from social media platforms will be discussed.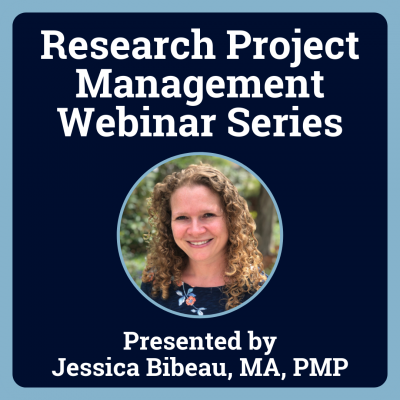 Research Project Management Webinar Series, Part 1: Using project management tools to initiate and plan your projects
Presenter: Jessica Bibeau, MA, PMP
When: Monday, October 28, 12-1pm
About: Are you so busy that it's difficult to keep your research projects organized and moving forward on a timely basis? Learn some professional project management strategies to help increase the efficiency and effectiveness of your research lab. This webinar is designed to help researchers plan and implement research projects using formal project management strategies put forth by the Project Management Institute. This webinar focuses on the early stages of your project as you plan activities, build your budget, and get your project up and running.
Academy Health, RHSProj Back to School Webinar: How to Search, Communicate, and Disseminate Your Research
Presenters: Selene Mak, PhD, VA Greater Los Angeles Healthcare System; Sherry Pagoto, PhD, UConn; Christiane Voisin, MSLS, Cecil G Sheps Center for Health Services Research at UNC Chapel Hill
When: August 21, 2019
Description: This introductory seminar explored effective search, communication, and dissemination strategies and provided an overview of resources publicly available through the National Library of Medicine for public health and health services and policy researchers to use in their work.
Developed with graduate students and junior investigators in mind, the seminar reviewed systematic search strategies and focused on innovative methods to communicate and disseminate research findings, including data visualization and social media.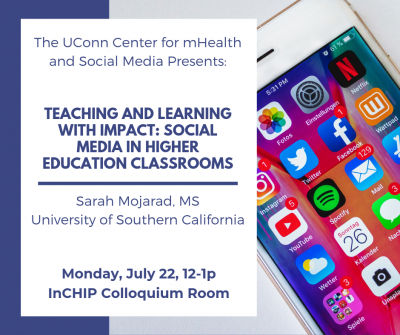 InCHIP Lecture Series: Teaching and Learning with Impact: Social Media in Higher Education Classrooms
Speaker: Sarah Mojarad, MS, University of Southern California
Title: Teaching and Learning with Impact: Social Media in Higher Education Classrooms
When: Monday, July 22, 12-1p in the InCHIP Colloquium Room
Description: Social media platforms provide new and interesting ways for people to communicate, and faculty are now using these online environments to support teaching and learning objectives in university settings. This talk presents the issues and opportunities with integrating new media into the classroom. Specific examples are provided, and they demonstrate how Wikipedia, Periscope, and Twitter are used to support learning outcomes. The seminar will close with suggestions for how faculty can incorporate social media into their teaching.
Bio: Sarah Mojarad is a lecturer at the University of Southern California with joint faculty appointments in Viterbi School of Engineering and Keck School of Medicine. Her areas of expertise are in social media, science communication, and online medical professionalism. She received her BA in Psychology from Boston University and MS in Corporate and Organization Communication from Northeastern University.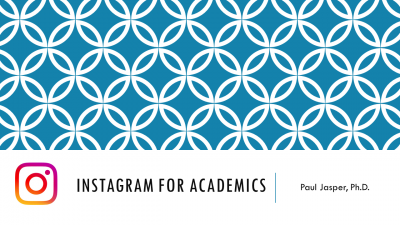 Lecture: Instagram for Academics: A Nuts and Bolts Workshop on How to Use Instagram in Your Work
Date: 5/29/19
Presenter: Paul Jasper, PhD, Res Group
Details: Instagram is a way to directly connect with thousands, if not millions of people. As academics, it is to our advantage to use this tool to source new ideas, stimulate participation in research studies, to disseminate research findings, and ultimately to build a window into your laboratory, clinic, or Center. Integrating social media into your work represents a significant opportunity for both increased funding, innovative ways to engage with student and patient populations, enhanced student/staff recruitment, and media influence. Dr. Jasper, a full time computational biologist, who also runs a successful woodworking company on Instagram (@copper_pig_fine_woodworking), will discuss the nuts and bolts of Instagram with emphasis on how best to grow on the platform for use in your research and/or to represent yourself as a scientist as well as your laboratory. Topics to be covered include: basics of Instagram, growing your following, content development (i.e., what to post), post format (video vs. picture vs. carousel), posting frequency, features (e.g., stories, chat), organic reach vs. paid promotions, how the algorithm works, etc.
Watch: https://youtu.be/BIa3W2Fxa8s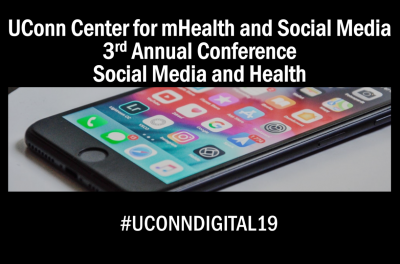 3rd Annual UConn Center for mHealth and Social Media Conference
"Social Media and Health"
Date: 5/16/19
Location: Student Union Ballroom, 2110 Hillside Road, U-3008. Storrs, CT 06269-3008
Speakers: Drs. David Cavallo (Case Western Reserve University), Michael Amato (Truth Initiative), Christopher Carroll (Connecticut Children's Medical Center), Sherry Emery (NORC at University of Chicago), Cesar Gabriel Escobar-Viera (University of Pittsburgh), Philip Massey (Drexel University), and Anne Oeldorf-Hirsch (University of Connecticut)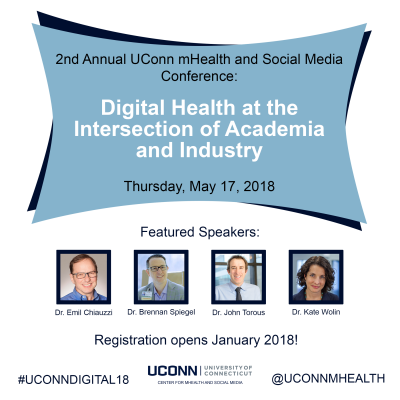 2nd Annual UConn Center for mHealth and Social Media Conference: Digital Health At the Intersection of Academia and Industry
Date: 5/17/18
Location: Rome Commons Ballroom, University of Connecticut, 626 Gilbert Road Ext., Storrs, CT 06269
Time: 9:00 am – 5 pm
Presented by: UConn Center for mHealth and Social Media
Speakers: Dr. John Torous, Co-Director of the Digital Psychiatry Program, Beth Israel Deaconess Medical Center; Dr. Kate Wolin, Chief Science Officer, Interactive Health; Dr. Emil Chiauzzi, Clinical Research Psychologist, Principal Scientist, PatientsLikeMe; Dr. Brennan Spiegel, Director of Health Services Research, Cedars-Sinai Health System
Details: The UConn Center for mHealth and Social Media is pleased to present its 2nd Annual Conference with the theme of Digital Health at the Intersection of Academia and Industry.  The conference will be held at the University of Connecticut in Storrs, CT from 9:00 am – 5:00 pm on May 17, 2018.  Speakers from Cedars-Sinai, Beth Israel Deaconess Medical Center, PatientsLikeMe, and Interactive Health will be presenting state-of-the-art research on mobile apps, devices, wearables, and social media. A panel will discuss the topic of building interdisciplinary and academia-industry collaborations. A poster session and wine reception will be held at 4:00 pm. See full agenda.
Submit Abstract (by 3/19/18): https://www.regonline.com/builder/site/tab1.aspx?EventID=2118387
Registration ($40/free for UConn students): https://www.regonline.com/builder/site/default.aspx?EventID=2118387

Webinar: Developing and Adapting Behavioral Interventions for Social Media Delivery
Date: 12/21/17
Time: 1-2pm EST
Presented by: The Society of Behavioral Medicine
Speakers: Sherry Pagoto, PhD and Ashley Panzarino of UConn Center for mHealth and Social Media
Recording (free for SBM members/$15 for non-members): https://sbm.execinc.com/edibo/BCWebinars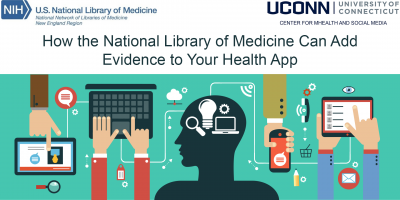 Webinar: How the National Library of Medicine Can Add Evidence to Your Health App
Date: 11/7/17
Time: 12-1pm EST
Presented by: UConn Center for mHealth and Social Media & National Library of Medicine
Speakers: Susan Halpin of National Library of Medicine (NLM) and Sherry Pagoto PhD of UConn Center for mHealth and Social Media
Objectives:
Introduce you to the National Library of Medicine (NLM) and its free resources
Demonstrate how NLM resources carry out the mission to improve public health through free digital websites, databases and other educational tools, health and medical training classes and grant funding opportunities
Provide examples of how these health related resources can add value to your app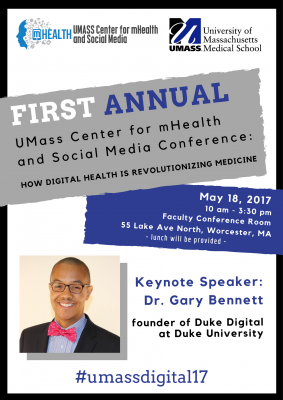 First Annual UMass Center for mHealth and Social Media Conference: How Digital Health is Revolutionizing Medicine
Date: 5/18/17
Location: Faculty Conference Room, Medical School, 55 Lake Ave North, Worcester, MA
Time: 10am – 3:30pm
Presented by: UMass Center for mHealth and Social Media
Keynote Speaker: Dr. Gary Bennett, Duke University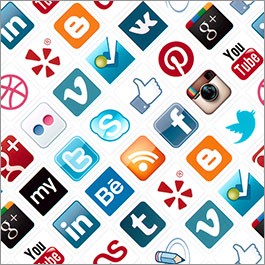 Webinar: The New Social Media Playbook, hosted by the Mayo Clinic & Vanderbilt Health. 
Date: 9/21/16
Streaming location: Shaw Building on 419 Belmont St, 2nd floor, Conference Room #1. 
Time: 1pm-2pm ET
Presented by: Lee Aase, Director, Center for Social Media – Mayo Clinic Cynthia Floyd Manley, Director, Content Strategy – Vanderbilt University Medical Center
This program will provide live discussion and Q&A with these leaders, and attendees will learn:
Cutting-edge social media strategies industry leaders are using to strengthen their brand presence and integrity
How to interact, share, and engage in discussions that are hyper-targeted to niche audiences
The importance of video and how it has become a critical tool for improving patient experience
A plan for optimizing staffing and training to ensure consistent brand voice