Webinar: How to Write Op-Eds and Why You Should
Date: 3/22/18
Time: 1-2pm EST
Presented by: The Society of Behavioral Medicine
Speakers: Sherry Pagoto, PhD of UConn Center for mHealth and Social Media & Jamie Bodenlos, PhD of Hobart and William Smith Colleges
Details: 
This webinar is designed to empower and excite attendees to contribute to and shape the public narrative about health behavior change. Our expertise as behavioral medicine researchers and practitioners gives us an important opportunity to shape how society thinks about health. This webinar will discuss how to get on the road to becoming a thought leader by learning to write for the public. We will focus on op-ed writing which entails building a sound evidence-based, values-based argument that is effective and easily digestible to a broad audience. We will review the basic structure of op-eds and how to pitch to editors. We will also discuss important considerations regarding op-ed writing including time commitment, how it can fit into tenure and promotion, dealing with rejection, and dealing with opposing views.
Register (free for SBM members/$15 for non-members): https://sbm.execinc.com/edibo/BCWebinars 

Webinar: Developing and Adapting Behavioral Interventions for Social Media Delivery
Date: 12/21/17
Time: 1-2pm EST
Presented by: The Society of Behavioral Medicine
Speakers: Sherry Pagoto, PhD and Ashley Panzarino of UConn Center for mHealth and Social Media
Details:
This webinar provides practical guidance on how to develop and/or adapt behavioral intervention content to deliver in private online groups using commercial social media platforms like Facebook. Commercial social media platforms provide a free, confidential means to deliver behavioral programming to groups. Studies have used this model for weight management, smoking cessation, physical activity promotion, and parenting, among other topics. Presenter and SBM President-Elect Sherry Pagoto, PhD, a professor in the Department of Allied Health Sciences at the University of Connecticut, and moderator Danielle Arigo, PhD, discuss user-centered design approaches to developing intervention content that can be distributed via social media posts, engagement strategies, social media marketing principles, and logistical issues (e.g., creating the group, scheduling posts, moderation, tracking engagement). They discuss lessons learned from relevant studies using Facebook and Twitter, and make recommendations for research steps from developmental, pilot, and randomized trial phases. Viewers will learn hands-on skills and have the opportunity to ask questions and discuss challenges.
Recording (free for SBM members/$15 for non-members): https://sbm.execinc.com/edibo/BCWebinars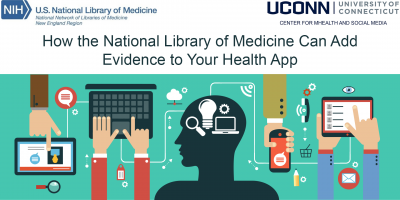 Webinar: How the National Library of Medicine Can Add Evidence to Your Health App
Date: 11/7/17
Time: 12-1pm EST
Presented by: UConn Center for mHealth and Social Media & National Library of Medicine
Speakers: Susan Halpin of National Library of Medicine (NLM) and Sherry Pagoto, PhD of UConn Center for mHealth and Social Media
Objectives:
Introduce you to the National Library of Medicine (NLM) and its free resources
Demonstrate how NLM resources carry out the mission to improve public health through free digital websites, databases and other educational tools, health and medical training classes and grant funding opportunities
Provide examples of how these health related resources can add value to your app
Recording: https://sbm.execinc.com/edibo/BCWebinars (free to SBM members/$15 for non-members)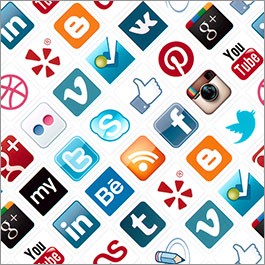 Webinar: The New Social Media Playbook, hosted by the Mayo Clinic & Vanderbilt Health. 
Date: 9/21/16
Streaming location: Shaw Building on 419 Belmont St, 2nd floor, Conference Room #1. 
Time: 1pm-2pm ET
Presented by: Lee Aase, Director, Center for Social Media – Mayo Clinic Cynthia Floyd Manley, Director, Content Strategy – Vanderbilt University Medical Center
This program will provide live discussion and Q&A with these leaders, and attendees will learn:
Cutting-edge social media strategies industry leaders are using to strengthen their brand presence and integrity
How to interact, share, and engage in discussions that are hyper-targeted to niche audiences
The importance of video and how it has become a critical tool for improving patient experience
A plan for optimizing staffing and training to ensure consistent brand voice
Please RSVP by 9/14 to let us know if you can attend. Space is limited.