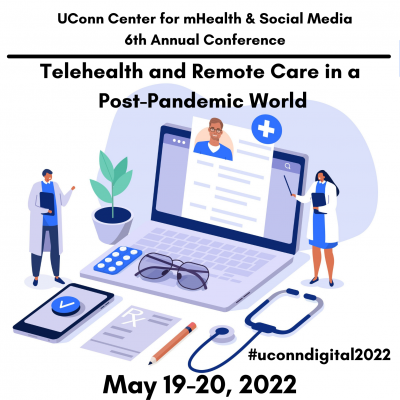 6th Annual Virtual Conference: Telehealth and Remote Care in a Post-Pandemic World
May 19-20, 2022
The theme of the 2022 annual CHASM conference is "Telehealth and Remote Care in a Post-Pandemic World." Telehealth utilization grew by 78 fold during the pandemic as the need for safe means to access and deliver healthcare was greater than ever. This rapid expansion of telehealth was enabled by regulatory changes, some temporary and some permanent, which expanded reimbursement for telehealth-delivered care. Given that patient and provider willingness to use telehealth and the skills to do so have increased, a roadmap is now needed for virtual care models that serve the goals of improving access to care, outcomes, and affordability.
This conference will feature keynote speakers and panelists who are studying and innovating virtual care models in medicine, mental health, physical therapy, pediatrics, underserved populations, and beyond. Topics including health equity, asynchronous interventions and care, and telehealth and the patient experience will be discussed and debated.
Keynote speakers include:
Todd Norwood, DPT, Director of Clinical Services at Omada Health where he built the first nationwide network of exclusively telehealth physical therapists;
Dr. Kristin Ray, Associate Professor of pediatrics at the University of Pittsburgh School of Medicine who researches pediatric health system access, outcomes, and equity, with a focus on the use and impact of telehealth in pediatric care;
Dr. Courtney Lyles, Associate Professor in the UCSF Division of General Internal Medicine at Zuckerberg San Francisco General Hospital, who researches health inequities and telehealth; and
Dr. Jared Skillings, the American Psychological Association's (APA) Chief of Professional Practice, who is leading the APA's efforts to promote the practice of psychology and advocates for practicing psychologists through federal and state legislative advocacy and regulatory initiatives, including telehealth reimbursement for psychological services.
The conference will feature two panel discussions as well, the first featuring a discussion around asynchronous interventions and the second featuring a discussion on telehealth and the patient experience.
We will be accepting abstracts for formal paper sessions and video paper sessions. The conference will include two formal paper sessions, one on each day of the conference. Each paper session will feature 3 paper presenters who will each speak for 12 mins and take questions for 3 minutes. Each day of the conference will conclude with a video paper viewing.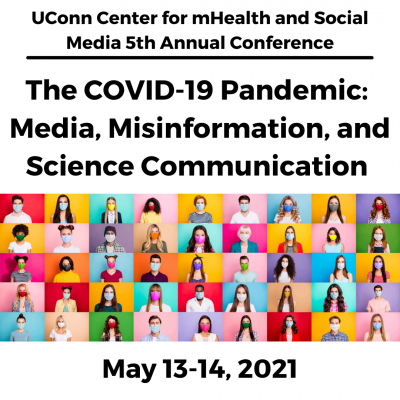 5th Annual Virtual Conference: The COVID-19 Pandemic: Media, Misinformation, and Science Communication
May 13-14, 2021
The theme of the 2021 annual CHASM conference was "The COVID-19 Pandemic: Media, Misinformation, and Science Communication." The COVID-19 pandemic has made it abundantly clear how misinformation on the internet can have dire public health consequences and the important role scientists have in communicating to the public. At this two-day conference, discussions included a focus on how scientists, clinicians, public health professionals, and patients can work together to counteract the infodemic.
Nationally renowned keynote speakers and panelists shared their work examining online COVID-19 patient communities, vaccine hesitancy and acceptance, health inequities and global health communication.
Natalie Lambert, PhD. Indiana University
Allison Buttenheim, PhD, MBA, University of Pennsylvania
Wizdom Powell, PhD, UConn Health
Scott Ratzan, MD, MPA, City University of New York
Monica Wang, PhD, Boston University
Jessica Gold, MD, MS, Washington University in St. Louis
Eleanor Murray, ScD, Boston University
Eugenia South, MD, MSHP, University of Pennsylvania
Natalie Shook, PhD, University of Connecticut
Jasmin Tiro, PhD, University of Texas
We accepted abstracts for formal paper sessions and video paper sessions. We featured 6 oral paper presentations and 34 video posters. Attendees viewed these 2-minute video posters at their leisure and participated in informal breakout discussions with the poster authors over zoom. We selected a number of video poster authors and attendees to receive awards. The awards came with 500 JMIR Karma credits or an invitation to publish in the JMIR network of journals.
JMIR Infodemiology Editor's Picks
Zoya Adeel, McMaster University, Press Before Peer Review: Tracking Media Coverage of COVID-19 Science. https://youtu.be/ZF419hOCrro
Christie Idiong and Richard Bannor, University of Connecticut, A Qualitative Analysis of the Disinformation Dozen on Twitter and Prevalent Themes Surrounding COVID-19 and Vaccine-Related Disinformation. https://youtu.be/cZT1hUEGlfc
Best Student Video
Samuel Mendez, Harvard University, Lessons Learned from Rapid COVID-19 Health Communication with Community Health Centers in Massachusetts. https://youtu.be/R5sfg-TcZ40
Best Videos
Molly Waring, University of Connecticut, Factors Associated with COVID-19 Vaccine Hesitancy among Mothers of Children 0-12 Years Old. https://youtu.be/8y0twaYJcBQ
Arcana Krishnan, University of Albany (SUNY), Documenting Disparities in Technology Access, Information-Seeking and Vaccine Hesitancy during the COVID-19 Pandemic in New York's Capital Region. https://youtu.be/66gA_kJjN-c
Most Viewed Video
Mayank Sakhuja, University of South Carolina, Communicating online with patients during a pandemic: An analysis of Covid-19 information on outpatient clinic websites. https://youtu.be/GW5NlBqhqBk
Most Engaged Conference Attendee
Anne Oeldorf-Hirsch, University of Connecticut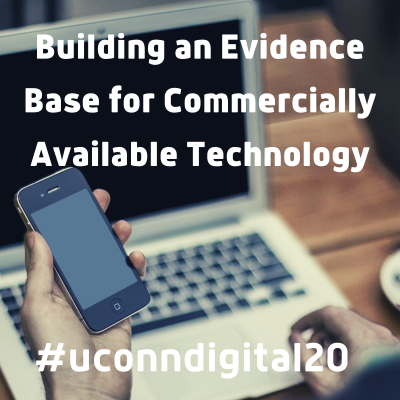 2020 Virtual Conference: Building an Evidence Base for Commercially Available Technology
Speakers: Brie Turner-McGrievy, PhD,University of South Carolina; Yelena Wu, PhD, University of Utah; Heather Patrick, PhD, Private Sector; David Conroy, PhD, Pennsylvania State University; Aaron Coleman, CEO of Fitabase; Jennifer Huberty, PhD, Arizona State University
When: May 14-15, 2020
Description: The UConn Center for mHealth and Social Media (CHASM) 2020 Annual Conference was 100% virtual. The theme of the 2020 annual CHASM conference is "Building an Evidence Base for Commercially Available Technology," and focused on research that evaluates the reliability, accuracy, efficacy, or real world effectiveness of commercially available technology including mobile apps, sensors, devices, or social media platforms. Digital health is a $200 billion industry with countless apps, devices, platforms and sensors available in the marketplace and in the hands of millions of users. This marketplace offers myriad opportunities for research aiming to improve health outcomes. Evidence is direly needed for commercially available technologies to guide healthcare professionals on which products to "prescribe" to their patients, and to guide consumers on which products are worth their time and money.
We designed the program to catalyze research on commercial health technologies and to lay out a roadmap for best practices, including how to navigate the myriad methodological, logistical, and ethical challenges of research using commercial health technologies. We featured nationally renowned keynote speakers from academia and industry who have expertise in using commercially available health technologies in research. Attendees had the opportunity to participate in virtual breakout sessions to give them closer access to speakers for advice on anything from developing relationships with industry to innovative research designs. Attendees were also strongly encouraged to come ready to develop a research question during the conference and submit seed grant proposals to two funding opportunities that opened shortly after the conference. Three workshops were held on Friday, May 15: Research Designs for Testing Commercially Available Technology, How To Write an Effective Seed Grant, and Introduction to Social Network Analysis.
Video Poster Abstracts: In lieu of a traditional poster session, we hosted a video poster session. Instead of a traditional poster, presenters produced a 1 minute video summarizing their research in any way they saw fit. Awards were given to the video with the most views and to those selected by our judges for Best Video Poster by a Student and Best Video Poster Overall. You can enjoy video posters on our YouTube playlist.
Seed Grants for Conference Attendees: Two funding opportunities are available exclusively to registered conference attendees. One opportunity is open to all attendees and one is reserved for PIs from UConn. The company Calm is kindly sponsoring one funding opportunity for any attendees interested in using Calm in their research. CHASM and UConn's InCHIP are co-sponsoring the seed grant opportunity reserved for UConn investigators. See more information and submission details here.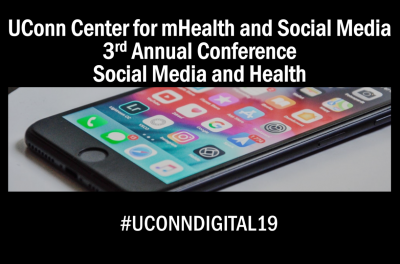 3rd Annual UConn Center for mHealth and Social Media Conference
"Social Media and Health"
Date: 5/16/19
Location: Student Union Ballroom, 2110 Hillside Road, U-3008. Storrs, CT 06269-3008
Speakers: Drs. David Cavallo (Case Western Reserve University), Michael Amato (Truth Initiative), Christopher Carroll (Connecticut Children's Medical Center), Sherry Emery (NORC at University of Chicago), Cesar Gabriel Escobar-Viera (University of Pittsburgh), Philip Massey (Drexel University), and Anne Oeldorf-Hirsch (University of Connecticut)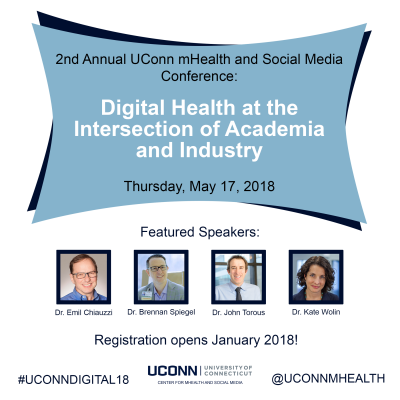 2nd Annual UConn Center for mHealth and Social Media Conference: Digital Health At the Intersection of Academia and Industry
Date: 5/17/18
Location: Rome Commons Ballroom, University of Connecticut, 626 Gilbert Road Ext., Storrs, CT 06269
Time: 9:00 am – 5 pm
Presented by: UConn Center for mHealth and Social Media
Speakers: Dr. John Torous, Co-Director of the Digital Psychiatry Program, Beth Israel Deaconess Medical Center; Dr. Kate Wolin, Chief Science Officer, Interactive Health; Dr. Emil Chiauzzi, Clinical Research Psychologist, Principal Scientist, PatientsLikeMe; Dr. Brennan Spiegel, Director of Health Services Research, Cedars-Sinai Health System
Details: The UConn Center for mHealth and Social Media is pleased to present its 2nd Annual Conference with the theme of Digital Health at the Intersection of Academia and Industry.  The conference will be held at the University of Connecticut in Storrs, CT from 9:00 am – 5:00 pm on May 17, 2018.  Speakers from Cedars-Sinai, Beth Israel Deaconess Medical Center, PatientsLikeMe, and Interactive Health will be presenting state-of-the-art research on mobile apps, devices, wearables, and social media. A panel will discuss the topic of building interdisciplinary and academia-industry collaborations. A poster session and wine reception will be held at 4:00 pm. See full agenda.
Submit Abstract (by 3/19/18): https://www.regonline.com/builder/site/tab1.aspx?EventID=2118387
Registration ($40/free for UConn students): https://www.regonline.com/builder/site/default.aspx?EventID=2118387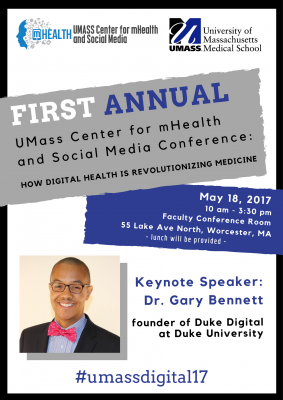 First Annual UMass Center for mHealth and Social Media Conference: How Digital Health is Revolutionizing Medicine
Date: 5/18/17
Location: Faculty Conference Room, Medical School, 55 Lake Ave North, Worcester, MA
Time: 10am – 3:30pm
Presented by: UMass Center for mHealth and Social Media
Keynote Speaker: Dr. Gary Bennett, Duke University